Thanking God for Fathers Today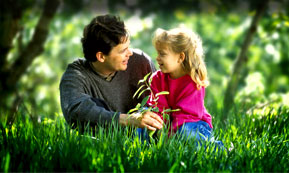 lifewordslifewordslifewordslifewords 6.20.10
It is a wonderful Sunday, Father's Day and Jesus is the Lord of our lives. Our Heavenly Father loves us with an everlasting love. His faithfulness is from everlasting to everlasting. His Word is our unchanging circumstance. Everything else is subject to change in a moment so don't lose heart. He will never leave or forsake us! You are His beloved so rejoice!
Today we are talking about prayer again. Remember, from Psalm 145 that the Lord is near to all who call upon Him, to all who call upon Him in truth. Prayer is the key. Much time in His Word and in prayer. And don't forget that prayer isn't just you talking! Remember to listen much, listen well.
The other day I met with a friend, I was so excited to meet with this friend! I knew this friend was struggling and had been thinking of her. I had so much to share with her and wanted to love her and encourage her. She talked for a whole hour about all of her circumstances until finally it was time to leave. You could say it was a one way communication. I felt that the purpose of our meeting was hijacked! I think the Lord must feel this way about us sometimes!
Know when to speak and when to be quiet and receive. I awoke this morning thinking of an awesome verse from Philippians 4.
"Don't be anxious for anything, but in all things, by prayer and supplication, with thanksgiving, let your requests be made known to God. And the peace of God which passes understanding, will keep your hearts and minds in Christ Jesus."
What a great instruction for us today. Paul is saying Don't be anxious. In other words, Don't fret. Don't get nervous. Don't be afraid. Don't get tense. Don't stress out. Don't act undone. Don't have the come aparts. About what? About anything!!! What do we do instead? We pray. We call on the NAME of the Lord. We bring our requests before God in Jesus' name. And while we are praying, we are thanking and worshipping our Father God. We take our place in prayer, before the throne of our God. We come because the blood of Jesus made a way for us to come boldly to find grace to help in time of need. We come in faith, believing. Through prayer we bring God's plan and purposes into our situation. We acknowledge our complete reliance upon Him, and take our place as His sons and daughters. The powers of darkness are pushed back, the forces of the enemy paralyzed and the supernatural peace of God begins to saturate our very being. So don't be afraid today. Don't fret or be nervous. Pray and thank God. All is well. And please know, if you are receiving this email, Matt and I are praying for wonderful you and your family by name. Love, Amy
Let's pray now
Father God I love You and I worship You. Thank you for your Word today. Thank you for your faithfulness. I ask your forgiveness for being anxious. I make a decision now to trust You with every area of life. I trust You. I believe Your Word. Teach me to be a person of prayer and to pray about everything. I call for help! Reveal Your will for me through Your Word. Help me to pray well. I will thank you and praise you and worship You continually. I walk by faith and not by sight.You are the Lord of my life. In Jesus' Name. Amen.